Flos lighting on Sale. Stardust offers contemporary decorative and architectural lighting by Flos specializing in authentic Italian design classics by Castiglioni, Sarfatti and Starck. The Flos contemporary modern lighting collection includes Flos table lamps, Flos floor lamps, Flos wall sonces, Flos chandeliers and Flos pendant lights. The Flos lamp collection includes historically significant modern design lamps by leading designers.

Flos Lamps and Flos lighting at Stardust Modern Design:

Stardust offers the largest collection of Flos lamps at unbeatable prices, guaranteed!
View the Flos collection in person at our showroom or purchase from our online store and receive:



> 110% Low Price Match

> Free Shipping

> Big Savings

> No added Sales Tax

> Expert Service



Flos Design:

Famous designers who have worked with Flos include Achille Castiglioni, Gino Sarfatti, Patricia Urquiola, Philippe Starck, Ron Gilad and Marcel Wanders to name just a few. The Flos lamp catalog includes the ubiquitous Flos Arco Lamp, Flos Archimoon Lamp, Tobia Scarpa's Biagio Lamp from 1968, the Flos Glo-Ball lamps, Flos Miss K Lamp, Flos Taccia Lamp, and some iconic new lamps such as the Flos Skygarden and the Zeppelin chandelier, both designed by Dutch designer Marcel Wanders.

The Flos modern lighting collection from Italy is one of the most captivating contemporary lighting collections you will ever see. The modern lighting collection from Flos includes both classic mid century modern lamps and contemporary lighting for both residential and commercial uses. The attractive modern Flos lamp collection is perfect for upscale residential projects, restaurants, retail stores, hotels, musea, etc. The strong synergy between quality craftsmanship and appealing design lines has cemented Flos as one of the most iconic lighting companies of our time with a collection of uniquely attractive lamps to satisfy every budget and taste. Flos modern lighting is made in Italy and is offered by Stardust Modern Design in the US. Many Flos lamps are included in museum collections including the Toio Flos Lamp in the New York MoMA design collection, the New York Metropolitan Museum of Art, the Stedelijk Museum in Amsterdam, the Centre Pompidou in Paris and the V&A Museum in London.

Shop Flos at Stardust Modern Design, home of the largest collection of modern design online. Enjoy a 110% Price Match Guarantee on every Flos Lamp, Free Shipping and Friendly Service from our Knowledgeable Flos lighting experts!

Flos lighting history:

Flos was established by Dino Gavina in the late 1950s, a firm individualist who was all but obsessed with the idea that Italy should become the homeland of a new interior design culture. Its name was a clever invention by Pier Giacomo Castiglioni. Flos is the name of a genus of butterfly and Pier Giacomo thought it was the perfect name for the new lighting company as it was intended to transform Italy's lighting landscape. After having met the inventor and small-sale lighting manufacturer Arturo Eisenkeil from Merano, and, having created many new pieces of modern furniture (with Achille and Pier Giacomo Castiglioni, Ignazio Gardella, Carlo and Tobia Scarpa and other luminaries of Italian architecture), Dino Gavina resolved that it was also time to create new lamps. One of the first lamps was the Cocoon Lamp. The cocoon technique used be Eisenkeil - a resin sprayed onto a metal frame - seemed an ideal starting point. Before long the cocoon method was taken up by the Castiglioni brothers. Rather than decorating a light bulb, the aim was to give a sense of magic to the light it emanated, filtering it through an enchantingly nebulous material that was captivating precisely thanks to its cloud-like quality. Interesting to note is that around this time George Nelson started to experience with the same cocoon technique for his Howard Miller Bubble Lamps. During the 1960s, Flos turned out a constant stream of successful lamp inventions such as Arco, Toio and the whole Flos Cocoon series of lamps. It also took over the Arteluce catalog which included the significant 2097 Chandelier by Gino Sarfatti; another brilliant Italian designer of the 1950s. Flos had the good fortune to work with the two Castiglioni brothers from its earliest beginnings, and continued working with only Achille after the premature death of Pier Giacomo in 1968.

Learn even more about the design history of

Flos

.

Flos historically significant lighting:

Flos has become one of the most influential names in Italian lighting design. Proof of its historical significance is the large and ambitious Taschen book 1000 Lights, with its collection of the 1,000 most important lamps from the 1960s through 2005. The book opens with the first Flos Taraxacum Lamp by Achille and Pier Giacomo Castiglioni, and continues through almost 50 years of lighting history with 55 Flos lamps referenced including the iconic Arco.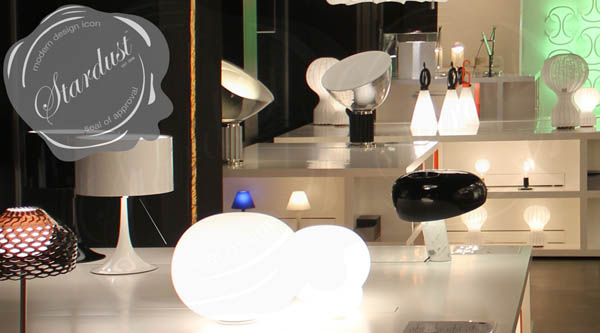 Flos Table Lamps pictured from left to right, Flos Spun Light by Sebastian Wrong, Flos Glo-Ball by Jasper Morrison, Flos Taccia by Achille Castiglioni, Flos Gatto and Gatto Piccolo by Achille Castiglioni, Flos Snoopy by Achille Castiglioni and Flos Lampadina Light by Achille Castiglioni (image credit Stardust Modern Design).