Contact Us:
Stardust Modern Design
270 W Napa Street
Sonoma, CA 95476
Toll Free: 866-939-9545
We love to hear from our customers! To ensure the best possible service, contact us using the email support form below. We will do our best to answer your question(s) within 2-4 hours. This contact method is available 24 hours a day, 7 days a week.
You can also call us toll free at 866-939-9545 from 9:00 AM - 5:00 PM pacific time Monday - Friday. Closed Saturday, Sunday, and most Holidays.
Please come visit our Showroom:
Just like you, we are passionate about modern design!
Come visit our showroom and discover the best in modern home furnishings.
Our knowledgeable staff is available to show you the latest and best in interior design. We are ready to assist you with all your interior design- and contractual needs. From small residential projects to large commercial applications for hotels, restaurants, retail stores or corporations, Stardust has the experience to make your project a success.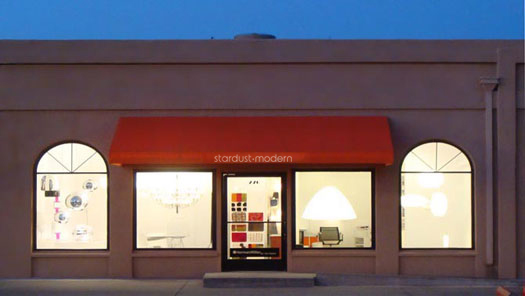 Our Location:
Our attractive showroom is located in the historic center of Sonoma, California.
The Sonoma Wine Country is world famous for its exceptional wine and exquisite art galleries.
This winning combination makes Sonoma an ideal place to visit, both for business and for pleasure. Our showroom features expansive street-side windows facing to the southwest which offer high visibility. Custom designed acrylite light boxes and high gloss mirror topped fiberglass display cubes show the best of everything on display. The 1000SF space we occupy is in a historic Art Deco (Art Moderne) building from the 1940ís featuring unique modernist touches, adding to the artistic appeal of the location. Yes, our building even has its own Gateway Arch similar like the one designed by Eero Saarinen (just a bit smaller). Our location is within an easy stroll of Whole Foods Market and within a two-minute walking distance of the historic downtown Plaza. From our prime location in this picturesque and affluent wine country, we are serving a market of 582,893 residents within a 20-mile radius. We have positioned our store as a showroom for our brands, while our website acts as a virtual extension of our store.
Our Mission:
Stardust has quickly grown to become the leading source in the modern home furnishings marketplace. We offer a unique assortment across a growing number of categories for both home and office including indoor- and outdoor furniture, modern lighting, contemporary rugs, home accessories and gift ideas. We have become the dominant authority on modern furniture and interior design and serve an ever growing number of home owners and trade customers who share our passion for high quality design. Stardust is the leading source for a growing number of trade customers, interior designers and architects. Our multi-channel infrastructure allows us to rapidly serve customers in any market both within the US and internationally. Whether you are creating a luxury boutique hotel in New York, an upscale apartment building in Miami or a ultra modern residential project in Brazil, Stardust can make it happen.