Flos Glo Ball C1 Small 13" Round Ceiling Light/Wall Lamp
Price: $695.00

$590.75
Code: flosgloballc1
Authentic Merchandise > Best Price > Free Shipping

Flos Glo-Ball C1 Small Modern Glow Ball Ceiling Fixture
Designer:
Jasper Morrison
Flos Glo Ball C1 Small 13"DIA Ceiling Light/Wall Lamp Flush Mount. The Glo Ball C1 ceiling light was designed by Jasper Morrison for Flos, the leading modern Italian lighting brand.A simple globe shaped light that provides adequate diffused lighting into a room.The Glo Ball ceiling lamp is shaped to fit into any household decor. The diffuser consists of an externally acid-etched,hand blown, flashed opaline glass and of a die-cast aluminum threaded ring nut withalodine plating finish. 30% fiberglass reinforced with aninjection-molded polyamide (UL-94 V2) ceiling fitting.A gray painted die-cast aluminum diffuser support.
Available in a huge variety of sizes and styles, the Flos Glo-Ballrange has a light to fit any home or office situation.
The Flos Glo-Ball ceiling fixtures are UL listed.
Light Bulb included
with every Stardust purchase.
No need to waste precious time looking for the right bulb.
Stardust always includes the required Flos light bulb.
Size: 13"DIA x 10.62"H
Material: glass
Bulb: 1x100W T10 halogen
Bulbs Included: Yes
Certification: UL listed

Usually ships in 2-3 business days.
We also recommend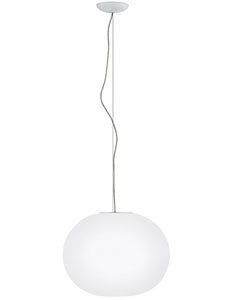 $845.00 $718.25
$935.00 $794.75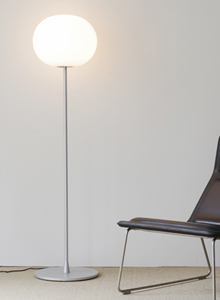 $1,125.00 $956.25