---
Looking for KARTELL design? Shop the Kartell Sale everyday at Stardust. The leading name in modern Italian furniture, Kartell has been the pre-eminent symbol of tasteful Italian design and style for over half a century. Kartell is one of the leading Italian design companies specializing in modern furniture, modern lighting and modern home accessories such as the Kartell Bourgie lamp, Kartell chairs such as the Louis Ghost Chair and the Mademoiselle Chair, Kartell furniture including accent tables, barstools, dining tables, office furniture, storage solutions. The modern design and modern contemporary furniture collection from Kartell contains a vast array of classic design icons created by a team of designers of international fame: Ron Arad, Anna Castelli Ferrieri, Antonio Citterio, Michele De Lucchi, Patrick Jouin, Ferruccio Laviani, Piero Lissoni, Vico Magistretti, Alberto Meda, Enzo Mari, Paolo Rizzatto, Maarten Van Severen, Philippe Starck and Patricia Urquiola. Discover the best of Kartell Design on Sale.
Discover Kartell Furniture at Stardust. Kartell creates functional modern objects for the home. Stardust specializes in Kartell modern furniture at unbeatable prices. Almost every Kartell chair or lamp is in stock and ready to ship. Receive free fast shipping with no minimum required on any Kartell purchase. At Stardust, we carry the complete Kartell collection of modern contemporary home products, modern furniture, lighting and accssories. Kartell is a world leader in modern design for the home with a specialty in plastic furniture production.

Kartell Chairs including the Louis Ghost Chairs by Philippe Starck (image credit Mel Yates).
World famous designers collaborate with Kartell, including Philippe Starck, Ron Arad, Ronan and Erwan Bouroullec, Anna Castelli Ferrieri, Antonio Citterio, Michele De Lucchi, Patrick Jouin, Ferruccio Laviani, Piero Lissoni, Patricia Urquiola, Marcel Wanders, Tokujin Yoshioka, Vico Magistretti, Alberto Meda, Enzo Mari, Paolo Rizzatto and Maarten Van Severen. It is a creative team which, together with Kartell, has developed a special intuition through dialogue and the continual exchange of design ideas. This has served to establish a perfect balance between each designer's project experience and Kartell's potential and demands. Kartell addresses an international clientele with a collection unique in originality, variety, size and range. The products are multifunctional and cross-sectional, easy-to-use and with undeniable visual appeal.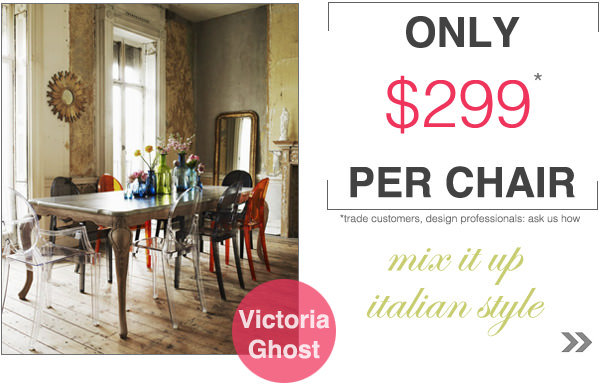 Stardust is pleased to offer the modern contemporary Kartell furniture and lighting collection which enhance any home interior. The Kartell modern design collection is made and imported from Italy. Kartell chairs and lamps are the ultimate expression of beauty. We carry the complete Kartell line of chairs, lamps, mirrors, organizers and accessories for your home- and office decorating needs including the ever popular Kartell Bourgie Lamp, the Bubble Club Chair, Componibili Storage Modules, Kartell Louis Ghost Chair, Mr. Impossible Chair and Victoria Ghost Chair. Check our entire modern design collection for decorating ideas. We specialize in home lighting, lamps and accessories for the modern home that are as beautiful as they are timeless. Stardust carries the best in modern lighting with free shipping and unbeatable pricing, guaranteed! Stardust.com strives to make your Kartell purchase as simple and as hassle free as possible.

Stardust Kartell Staff Picks pictured from left to right:
» Philippe Starck holding the Stardust Staff Pick Sign
» Kartell FL/Y Pendant Light Fixtures by Ferruccio Laviani
» Kartell Victoria Ghost Side Chairs by Philippe Starck
» Kartell Ghost Buster Side Tables by Philippe Starck
Kartell was established in 1949 and has become the world leader in Italian modern design and contemporary home accessories. The Kartell collection includes Italian made furniture and lighting that incorporates the renowned craftsmanship of Italian design with the latest, award-winning technologies. Throughout Kartell's 60 year life span the design world has seen trends come and go. As the Kartell line has grown and changed there have been select items that have remained fashionable no matter the era. The ever popular Louis and Victoria Ghost chairs by Philippe Starck have become icons of contemporary meets classic design. Ferruccio Laviani's Bourgie lamp, in its many incarnations, has a similar lasting quality. Even entering into the realm of 'form meets function', Anna Castelli Ferrieri's Componibili series has brought simple and modular organization and storage to homes for over 30 years.

Above: Kartell Bourgie Lamps designed by Ferruccio Laviani
Our customers love this beautiful table lamp with blends old world style with modern design.
Kartell's Bourgie lamp is the revisiting of a classic design: the Baroque table lamp.
Stardust offers the Kartell modern furniture collection at guaranteed low pricing and free shipping. Our knowledgeable Kartell experts will be pleased to assist you with any questions you may have about the Kartell product range. The Kartell collection includes Italian designed affordable modern indoor- and outdoor furniture, lighting and home accessories. Each Kartell product is made and imported from Italy. Kartell produces the finest contemporary plastic furniture for both home and office. The modern furniture and lighting collection from Kartell presents a versatile and sophisticated line of contemporary chairs, lamps, mirrors and accessories with beautiful modern design features. Stardust carries the complete Kartell line including Kartell lamps, Kartell Tables and Kartell Chairs. We offer the popular Kartell Ghost Chairs, Kartell Bourgie Lamps and Kartell Fly Lamps. Kartell is one of our favorite modern furniture brands since their fresh design is always of high quality and reasonably priced. We offer complimentary ground shipping on every Kartell product with no minimum required. We will beat any competitor's price on Kartell items, guaranteed! Let our friendly, knowledgeable Kartell experts answer your questions!