Murano Glass
History of Murano
Murano Lighting and its glass history go back as far as the 10th century. Renowned for its high-quality and craftsmanship, Murano Glass provides a sensible solution for vase- and lighting workshops who continue to work on the Island today.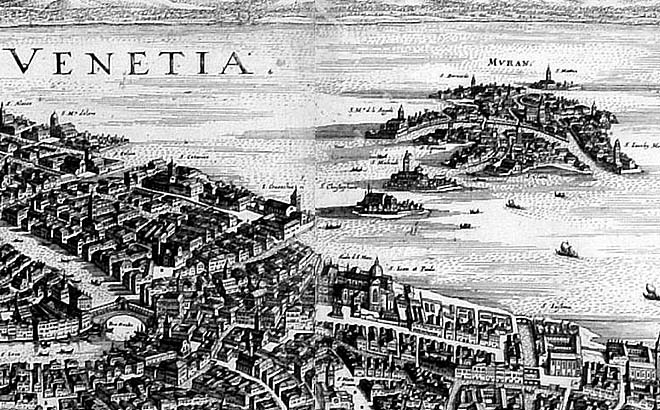 Old Map of Venice and Murano.
10th Century: Most historians identify the beginning of the Murano glass blowing tradition at around the end of the 10th century, more precisely in 982. Domenico Fiolarious is mentioned in an official document as a glass blower on the small island of Murano that was part of the young Republic of Venice, the Serenissima, which was then establishing its commercial and political power that was to last for centuries.
13th Century: Murano becomes the center of glass in 1291 when all glass makers are ordered to move their foundries to the island of Murano near Venice. Before 1291, most Italian glass foundries were located within the borders of Venice. This proved to be too much of a risk for the fire prone Venetian Republic which at that time consisted mainly of wooden buildings and structures. So in 1291 the Venetian Senate decreed that, because of the risk of fire from the increasing number of furnaces operating, the industry be removed from Venice to the Island of Murano. Murano's glass makers were soon the island's most prominent citizens.
14th Century: Murano glassmakers were allowed to wear swords, enjoyed immunity from prosecution by the Venetian state and found their daughters married into Venice's most affluent families. However glass makers were not allowed to leave the Venetian Republic in order to safeguard the glass-blowing manufacturing techniques. Several penalties were ordered for glass blowers who shared their glass-blowing techniques with other countries for example. Still some Murano glass craftsmen took this risk and set up glass furnaces in surrounding cities and countries including England, Belgium, France and the Netherlands. That is also the reason why glass from this period is so difficult to differentiate since some Murano glass blowers established their furnaces outside Murano.
16th Century: Three thousand of Murano island's seven thousand inhabitants were involved in some way in the glass making industry. Murano glass making supported almost the entire economy of the island of Murano. Murano's glassmakers held a monopoly on quality glassmaking for centuries, developing or refining many technologies including crystalline glass, enameled glass (smalto), glass with threads of gold (aventurine), multicolored glass (millefiori), milk glass (lattimo), and imitation gemstones made of glass.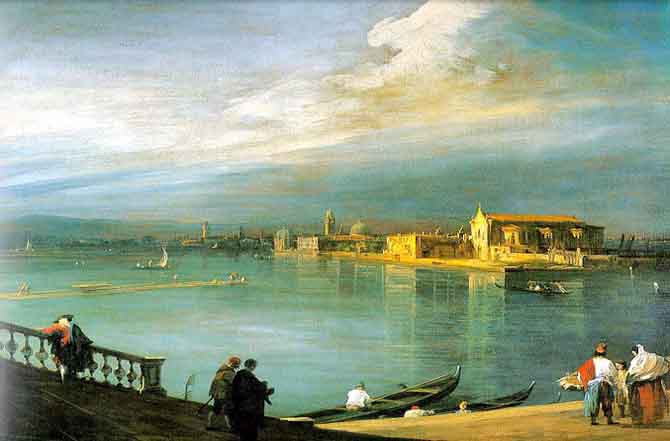 Murano Italy, late 17th century
17th Century: The Murano glass makers expand their production to Murano glass mirrors which is exported all over the world with the new opened sea routes between Italy and the rest of the world.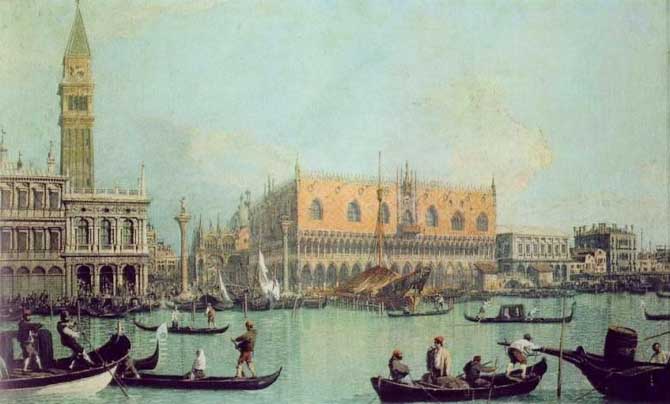 Venice Italy, early 18th century
19th Century: During the late 17th Century and all the way to the early 19th Century, Murano glass making techniques suffer a serious decline. A high percentage of furnaces are shuttered and numerous family based glass makers cease to exist. Main reason for this decline was that Chinese glass was introduced to the world thanks to the same sea routes which first helped Murano export its glass. Murano glass makers continue to produce glass beads which become known as "Venice Beads" but the production of Murano glass was reduced to a fraction of what is used to be. In the late 19th century, only a few furnaces were still in operation but none of them were able to create hand-blown glass. And all the knowledge and techniques from previous generations were becoming a lost art. But the rebirth of Murano glass blowing happened to be in 1866 when Antonio Salviati founded the Salviati e Co. Murano glass foundry. Salviati e Co. placed Murano firmly on the map again as the center of European glass. The Salviati e Co. Murano glass foundry gained much fame with their artistic glass collections. Many other glass makers soon founded their own foundry including glass makers like Angelo Seguso, Giovanni & Giuseppe Barovier and Angelo Fuga.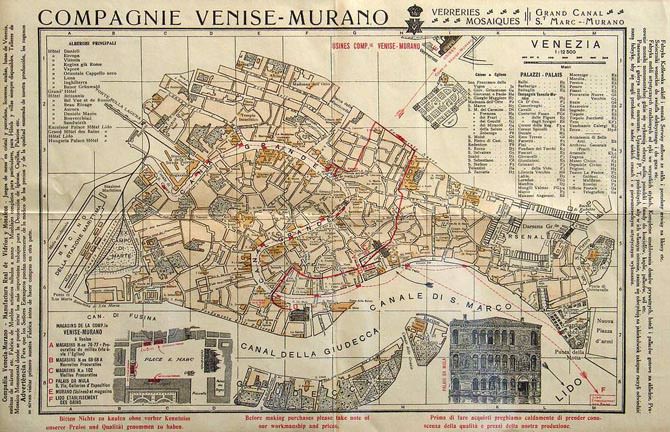 Map of Venice, mid 20th Century
20th Century: Murano glass was produced in great quantities in the 1950s and 1960s for export and for tourists. Murano glass achieves unprecedented name recognition throughout the world. Murano glass foundries flourish as new designers offer a new aesthetic to the age old Murano glass blowing techniques.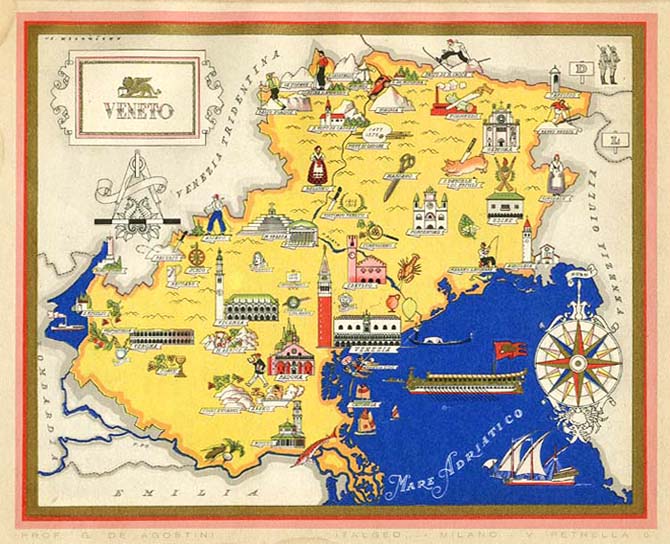 Map of Venice early 20th century
Some of the most famous names of 20th century glass design include Tina Aufiero, Alfredo Barbini, Ercole Barovier, Gae Aulenti, Gino Cenedese, Angelo Vittorio Mazzega, Alessandro Mendini, Carlo Nason, Flavio Poli, Gio Ponti, Giovanni and Livio Seguso, Carlo Scarpa Angelo Seguso, Ettore Sottsass, Paolo Venini, Vittorio Zecchin, Napoleone Martinuzzi, etc. Numerous museum collections in every part of the world, now display examples of fabulous Murano glass including Murano vaes, Murano chandeliers and Murano glass sculptures.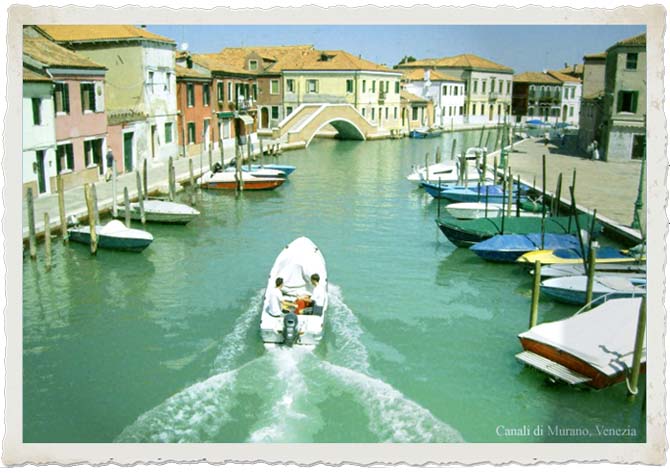 Murano Canals late 20th Century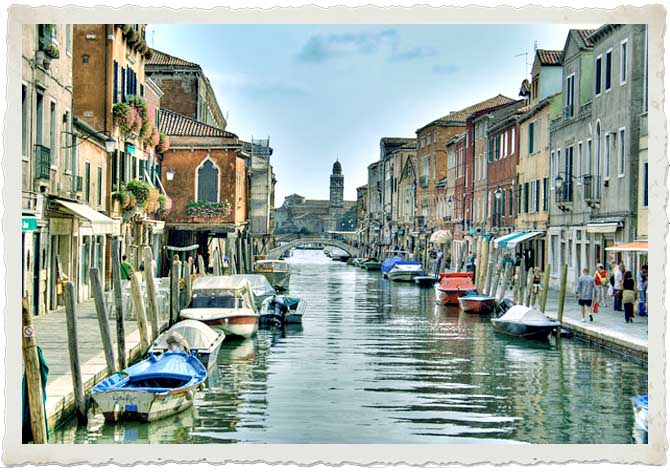 Murano Canals late 20th Century
21st Century: Up to this day, the artisans of Murano glass are still employing these century-old techniques which they perfected generation after generation, crafting everything from contemporary art glass, glass sculptures and objects d'arts, glass jewelery to Murano glass table lamps, pendant lights and large chandeliers. Today, Murano is home to the wonderful Museo Vetrario or Glass Museum in the Palazzo Giustinian, which holds displays on the history of glass making as well as glass samples ranging from Egyptian times through the present day. Some of the Murano's historical glass factories continue to produce wonderful Murano glass collections. Some of them are Mazzega, Venini, Barovier & Toso, Pauly, Seguso, Ferro Lazzarim. Murano glass is still interwoven with Venetian glass to this day since most of these family founded glass foundries started in Venice and later moved to Murano.