Louis Poulsen PH 4/3 Modern Table Lamp by Poul Henningsen
Price:

$1,314.00
Code: PH43
Authentic Merchandise > Best Price > Free Shipping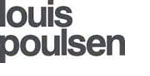 Louis Poulsen PH 4/3 Table Lamp
Poul Henningsen - Louis Poulsen - Denmark
Designer:
Poul Henningsen
Manufacturer:
Louis Poulsen
Add sophistication to your desk with the PH 4/3 (21.6" tall) brass/aluminum/white steel table lamps by Danish-based Louis Poulsen lighting. Just like the antique styles found on the desks of classic bankers offices and libraries, these stylish PH 4/3 table lamps have slender stems and three overlapping shades that perfectly illuminate any surface with plenty of warm reflected light. Featuring a sleek chromed base with an on/off switch, Louis Poulsen's PH 4/3 table or desk lamp lends an elegant vintage touch to the look of your reading nook or office decor, while its white lacquered simple, modernist-lined 3-shade lamp holder balances mid-century looks and classic appeal in your ensemble.
Louis Poulsen Original 21.6"H "PH 4/3" Modern Danish Table Lamp by Poul Henningsen, White. Shop the Authentic Louis Poulsen made PH 4/3 table lamps from Stardust. PH 4/3 Table Lamp part of Poul Henningsen's three - screen family range of lamps from Louis Poulsen, which now numbers 21 lamps, including 3 for outdoor use. Poul Henningsen designed the 3 - screen system as early as 1925 to 1926, where PH in collaboration with Louis Poulsen signed the first lamps for an exhibition in Paris. The stylish PH 4/3 Table Lamp is a classic in the history of Scandinavian lighting design. It's history can be traced back to 1967 when Poul Henningsen designed it to illuminate his own home. The art of the craft is clearly displayed in this iconic Scandinavian design classic. This brilliant design classic by Danish designer Poul Henningsen will compliment any home decor with its timeless elegance. A perfect addition for an end table, entryway console, office table or atop a credenza. It is equally attractive when used as a bedside table lamp. The PH 4/3 lamp is also a favorite with libraries who use it as a library lamp because of its perfect illumination that is gentle on the eyes, this, while still providing ample illumination to read by. It is also a very functional table lamp since it's on/off switch is located on its base, within easy reach whenever the light needs to be turned on or off. Poul Henningsen's PH 4/3 lamp is uniquely positioned for a variety of applications, be it residential- or commercial.
PH 4/3 provides soft diffused downward illumination thanks to its ingenious diffuser design. Poul Henningsen's PH 4/3 Table Lamp is based on the principle of a reflecting multi-shade system, creating a harmonious and glare free light. The shades are drawn over a logarithmic spiral, with the center of the light source The shades corresponds in a relationship of 3:2:1. Each shade evenly decreases the amount of light. The attention to detail that went into the design of this lamp is truly exceptional. This table lamp is a keeper, sure to be enjoyed for generations to come.
Finish of aluminum shades is white, wet painted. High-luster chrome brass & steel stem and base.
Collection:
Louis Poulsen
Louis Poulsen Product Code:
PH4/3T
Dimensions: 17.7"DIA x 21.6"H
Dimensions Base: 8.3"DIA
Cable Length: 8'
Cable Type: black electrical power cord
Switch: in-line on/off switch
Material Lamp Shade: spun aluminum, white
Material Stem: chrome plated, steel
Material Base: chrome plated, brass
Light Source: 1 x 15W LED A-19 medium
Certification: cULus listed, Dry location. IBEW.
Use:
indoor
,
residential
,
commercial
Country of Origin:
Denmark
Product Category:
lighting
,
table lamps
Style:
Danish design
,
modern
,
contemporary
View all by
Poul Henningsen
View all from
Louis Poulsen
Usually ships in 2-3 business day.