Kartell Foliage Chair by Patricia Urquiola
Price:
$2,055.00
Code: kartellfoliagechair

Kartell Foliage Chair by Patricia Urquiola
Patricia Urquiola Foliage Seating Collection
Designer:
Patricia Urquiola
Manufacturer:
Kartell
> Free Shipping
> 110% Price Match
> No Sales Tax
Kartell Foliage Chair by Spanish architect and designer
Patricia Urquiola
, a striking and utterly
comfortable chair
that is perfect when used as a small
chaise lounge chair
or as a
reading chair
in the corner of a living room. The Foliage Chair can also be combined with the
Foliage Sofa
to make a complete Foliage living room sofa set. Foliage is perfect for the relaxed setting of the home and provides an inviting place to nest & rest in style. Check out the entire Foliage collection from
Stardust
.
Every once in awhile a new design chair can be so incredible and revolutionary that you can't help but show it off to anyone who will listen. Enter Foliage, introduced by
Kartell
at Milan's Salone Internazionale del Mobile. Drawing inspiration from nature, the Foliage Chair by Kartell provides a naturally modern aesthetic and feels right at home in any type of interior style. Foliage features a motif of tree leaves that seem to hover about a structure of virtual branches, to create a seating surface in attractive colors.
Spanish designer
Patricia Urquiola
designed a beautiful, nature inspired sofa, which she named "Foliage". The seat itself is formed from a polyurethane foam padding that is covered with a quilted elastic fabric that is embellished with a to-stitched embroidery leaf pattern that spans over the entire surface of the Foliage Chair. Foliage comes in various aesthetically pleasing colors for a naturally beautiful modern look.
✓ Request Kartell Foliage Fabric Sample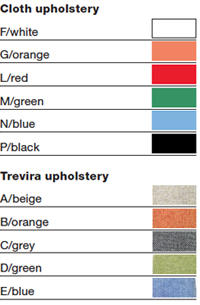 > view additional Kartell Foliage images on our blog
Collection:
Kartell
Kartell Product Code:
6085
Dimensions: 27.56" W x 31.56" H x 35.43" D
Seat Height: 18.11" H
Material Seat: foam stuffing fabric covered polyurethane
Material Fabric: Trevira - 100% polyester
Material Legs: iron tubes epoxy polyester coated
Weight
: 33.07 lbs (15 kg)
Use:
indoor
,
living room
,
dining room
,
bedroom
,
office
Shape: organic
Finish: as selected
Country of Origin:
Italy
Product Category:
furniture
,
chairs
,
chaises
,
lounge chairs
Style:
Italian design
,
modern
,
contemporary
View all from
Kartell
Free shipping, insurance, tracking number!
100% Low Price Match Guarantee on Kartell design!
No additional Sales Tax!
Friendly and Knowledgeable Customer Service!

View other Kartell lamps, chairs and home accessories.