Flos Lighting: Italian Modern Lamp Design
Click here to view the Flos lighting collection
.
The history of Flos:
From all the modern lighting brands we carry at Stardust, we have a very special affection for the Flos lighting brand. Its really a combination of things that we love; first of all it's the quality: if you see and feel a lamp like the Arco or Snoopy in person you will understand the high level of craftsmanship combined with the quality of the materials used. Second is the timeless design of these lamps. Take for example the Parentisi Lamp which was designed in 1971: after almost half a century, this minimalist lamp continues to be as modern as on the day it was designed. Third is the investment quality. Unlike cheap knock offs; an original lamp by Flos remains highly collectible. In fact; the lamps are often sold at auction houses since they remain historically valuable pieces.
Flos Sarfatti Chandelier designed by Gino Sarfatti for Arredoluce in 1958.
The exceptional collection of lamps by Flos encompasses over a half a century of modern lighting, from Achille Castiglioni of the late 1960s through Philippe Starck of current times. The Flos collection contains a diversity of mid-century modern and contemporary representations by the best designers of the 20th century. The Flos lamp collection has been exhibited in the permanent collection of the MoMA New York and constitutes an invaluable addition to the history of modern Italian lighting.
Flos was founded in 1962 by Dino Gavina and Cesare Cassina in Merano Italy. From early on, Flos had a huge success with the Cocoon lamp. In 1959 Arturo Eisenkeil from Merano, an importer of cocoon (a spray-on plastic coating produced in the United States) was tracking down possible applications for this new material. He joined forces with Dino Gavina and Cesare Cassina and set up a company to produce lighting fixtures. This marked the beginning of the long-standing association between Flos and the Castiglioni brothers and Tobia Scarpa. The first cocoon lamps created were the offspring of this collaboration: Viscontea, Taraxacum and Gatto by the Castiglioni brothers and Fantasma by Scarpa. The very same year FLOS was founded, it also produced a number of modern lamps that were to become classics in Italian industrial design.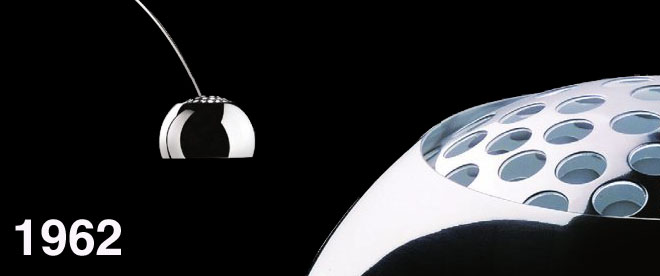 Flos Arco Lamp designed by Achille and Pier Giacomo Castiglioni in 1962.
These first lamps were the Arco Floor Lamp, Relemme Pendant Lamp, Toio Floor Lamp and the Taccia Table Lamp. In 1967, Achille amd Piergiacomo Castiglioni designed the stylish Snoopy table lamp which is our favorite Flos lamps. All these icons of modern lighting, designed by the Castiglioni brothers, display that beautiful and functional design is timeless. As a tangible proof of their timeless design and technical excellence, these exquisite modern lamps continue to be produced today.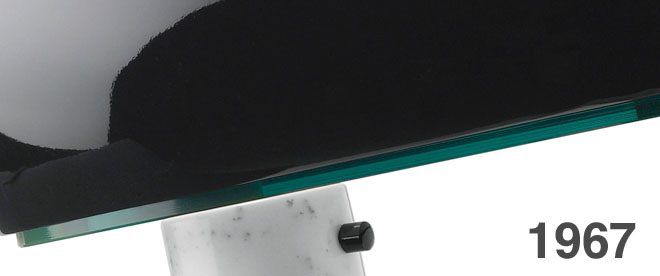 Flos Snoopy Lamp designed by Achille and Pier Giacomo Castiglioni in 1967.
In 1974, Flos became the owner of Arteluce. Arteluce was one of the key Italian companies in the industrial design sector. Gino Sarfatti, an industrialist and designer, was the founder of Arteluce. Several models designed by Sarfatti himself have been incorporated into the Flos lighting product range.
During the 1980s, Flos attracted emerging new talented designers. In 1988 Flos lighting started collaborating with Philippe Starck who would continue to produce the Ara lamp, Romeo pendant series and the Cicatrice De Luxe chandelier. Other talented designers followed thereafter including Jasper Morrison, Konstatin Grcic, Marc Newson, Antonio Citterio, Marcello Ziliani, Marcel Wanders, Sebastian Wrong, Laurene Leon Boym, Piero Lissoni, Rodolfo Dordoni, Tim Derhaag, Johanna Grawunder, Joris Laarman, Knud Holscher, Johanna Grawunder and Patricia Urquiola.
During the 1990s, Flos produced the Rosy Angelis, Romeo Moon and Archimoon series, which were all designed by Philippe Starck. Throughout the 1990's, the work of Achille Castiglioni and Philippe Starck has been flanked by a series of products from new and designers. This reflects the desire of Flos to keep discovering the most talented designers in order to maintain leadership in innovation. Flos began producing the Glo-ball lamps by Jasper Morrison in 1998, which stood apart since it was produced with a large opaline glass sphere that can be used with various types of supports. Kostantin Gricic is another innovative designer and the company produces two of his works: May Day that is reinventing a versatile, multi-purpose floor or suspension lamp, and Boxer, redesigning a characterless type with contemporary materials and lines. Finally, Flos also produces Antonio Citterio's Lastra ceiling fixture. This lamp combines advanced lighting technology, printed circuitry and single adjustable task lighting with a traditional accent conjured up by the imposing crystal sheet and lamp hanging over the dining table.
The brilliant Flos lighting collection includes some real iconic pieces. The Flos lamp catalog showcases some significant examples of modern lighting which rightfully belong to the realm of modern design icons: forms, lighting techniques, original design concepts invented by FLOS, readily acclaimed and adopted by consumers all over the world. Among these classic Flos lamps are the Flos Parentesi lamp by Achille Castiglioni and Pio Manzu, the Flos Arco lamp and the Taraxacum lamp by Achille and Pier Giacomo Castiglioni, Miss Sissi, Archimoon, the Romeo series and the Ktribe series by Philippe Starck, the Glo-Ball lamp series by Jasper Morrison, Skygarden and Zeppelin chandeliers and pendant lights by Marcel Wanders, the 2097 chandelier by Gino Sarfatti, Ray by Rodolfo Dordoni, Kelvin by Antonio Citterio with Toan Nguyen, Nebula by Joris Laarman and many more. Flos lighting was rewarded with several Compasso d'Oro Industrial Design Awards for the Luminator lamp by Achille and Pier Giacomo Castiglioni, the Parentesi lamp by Achille Castiglioni and Pio Manzu, the Drop lamp by Marc Sadler and the May Day by Konstantin Grcic.
From the very outset, Flos has been characterized by its high-quality approach to lamp design and production. Many of the numerous lamps designed for the company, first by Achille and Piergiacomo, are undoubtedly some of the best-known and most successful products of industrial design. They have won awards and historical critical accolades, and are included in all the most important collections and design museums around the world. In 1998 a major retrospective was held at the Museum of Modern Art New York for Achille Castiglioni and his modern lights for Flos. This exhibition introduced Achille Castiglioni and Flos to a very broad public.
The Flos modern lighting collection from Italy is one of the most captivating lighting collections you will ever see. The lighting collection includes both classic mid century modern lamps and newer contemporary lighting for both residential and commercial uses. The Flos lighting collection includes table lamps, floor lamps, wall sonces, chandeliers and pendant lights.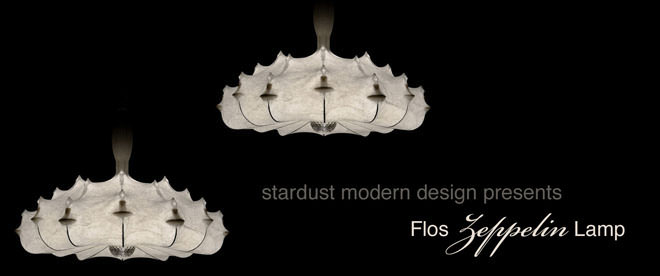 Flos Zeppelin Lamp designed by Marcel Wanders in 2005.